Rhythm Quilt - the Ruby Star Society version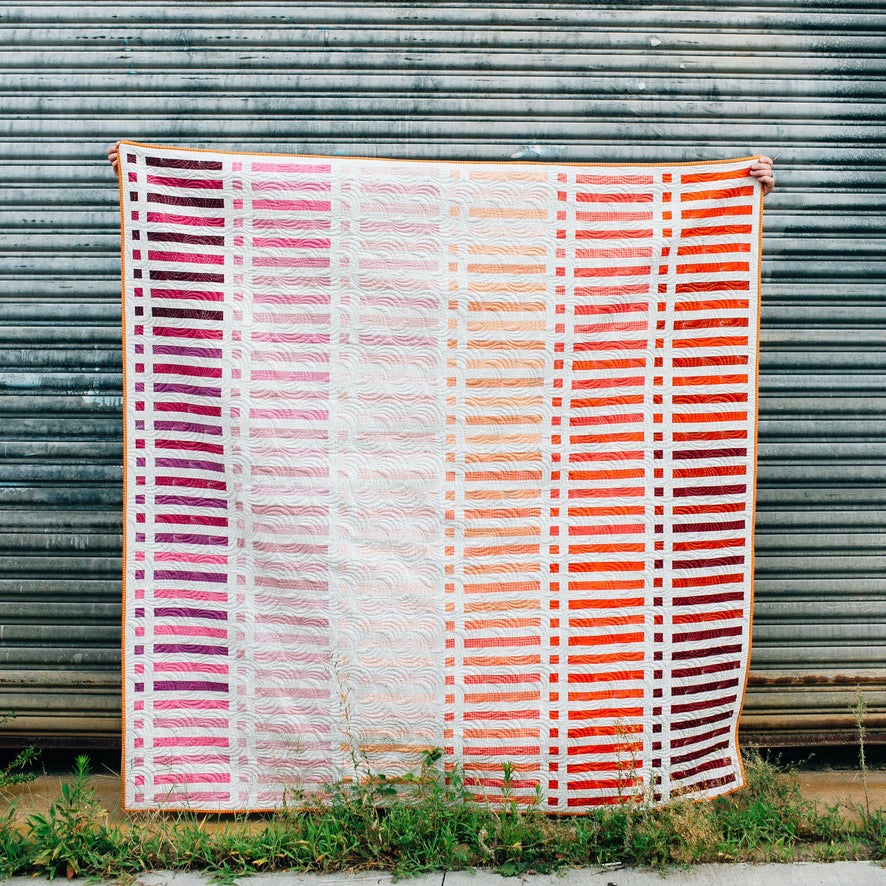 RHYTHM QUILT PATTERN IS NOW AVAILABLE!
After I created my Knitted Star quilt using Ruby Star Society Basics, I was so excited to make a similar Rhythm quilt! Each Ruby Star designer has a line of "basics" that are constantly available....and they're all so versatile and gorgeous! I settled on a color palate that has grown into my "signature" color palate, I'd say. I used very similar colors in my Ombre Puff Quilt and ever since then, I've been in love!
.
.
.
.
I decided to make a Large Throw size (67" x71") which uses 22 fabrics. It was really fun to sift through all of their basics and find fabrics that blended into each other!
Side note: We have kits for this quilt available for Preorder!
I used Speckled in White Gold for my background, which is also what I used for my Knitted Star Background. I love how subtle it is, but the metallic fleck offer a sense of "glam" which is really fun!
.
.
.
Peter helped me sew these strips together. Funny story about that....the pattern works best with scant 1/4" seams. With Peter being left-handed (and also new to sewing), we haven't yet mastered his *regular* 1/4" seam, let alone his *scant* 1/4" seam. This, combined with switching machines halfway through the quilt top, led us to some inconsistencies with our seam allowances. haha. I can laugh about it now, but it was a touchy subject in the moment!
.
.
.
.
.
I didn't realize just how W I D E this quilt top was until I made it! All of the sizes are *almost* square....which, ya'll know that I love a square quilt! As I said, this "Large Throw" quilt comes in a measuring 67" x 71", so it's BIG. I had to smoosh it all together just to get a picture of the whole thing!
I sent my rhombus-shaped quilt (haha) to Ashley of Hen House Quilting and she quilted "Swivel Circle 2" by Karlee Porter. Ohhhhh, I'm in love with this pantograph! I've had my eye on it for a while and I was excited to finally have the perfect quilt top for it! I love how it adds movement to these straight lines. 
.
.
.
.
.
.
.
.
.
.
.
.
.
I had some leftover Grid in Caramel (another RSS basic) from my RSS Knitted Star, and I thought it'd go perfectly with everything! This carmel-y color is one of my favorite neutrals. One could argue that it's more of an orange color, but I love any shade of rust/orange/pecan! 
.
.
I used Add it Up in Khaki as my backing. I wanted something super neutral, plus I had a lot of it on hand. It's not my normal go-to for a backing choice, I typically like to use larger scale prints, but again, since I had so much of this in my stash, it just made sense. And it works!
We brought this quilt with us to downtown Raleigh last week and Brittany, of Brittany Cruise Photography grabbed some photos for us! This quilt is a little more on the wider side, so it took both Peter and I to hold this quilt up. That always creates an interesting situation, A: because he's taller than me and B: the quilt was slightly rhombus shaped, remember? haha. We had some laughs in the process. 
.
.
 .
.
.
.
.
.
.
.
.
.
.
.
LINKS:
.
I can't wait to see what ya'll create with this pattern! Please tag me on social media so I can see! Happy sewing!
.
.
Brittany