Rhythm Quilt - Pattern Tester versions!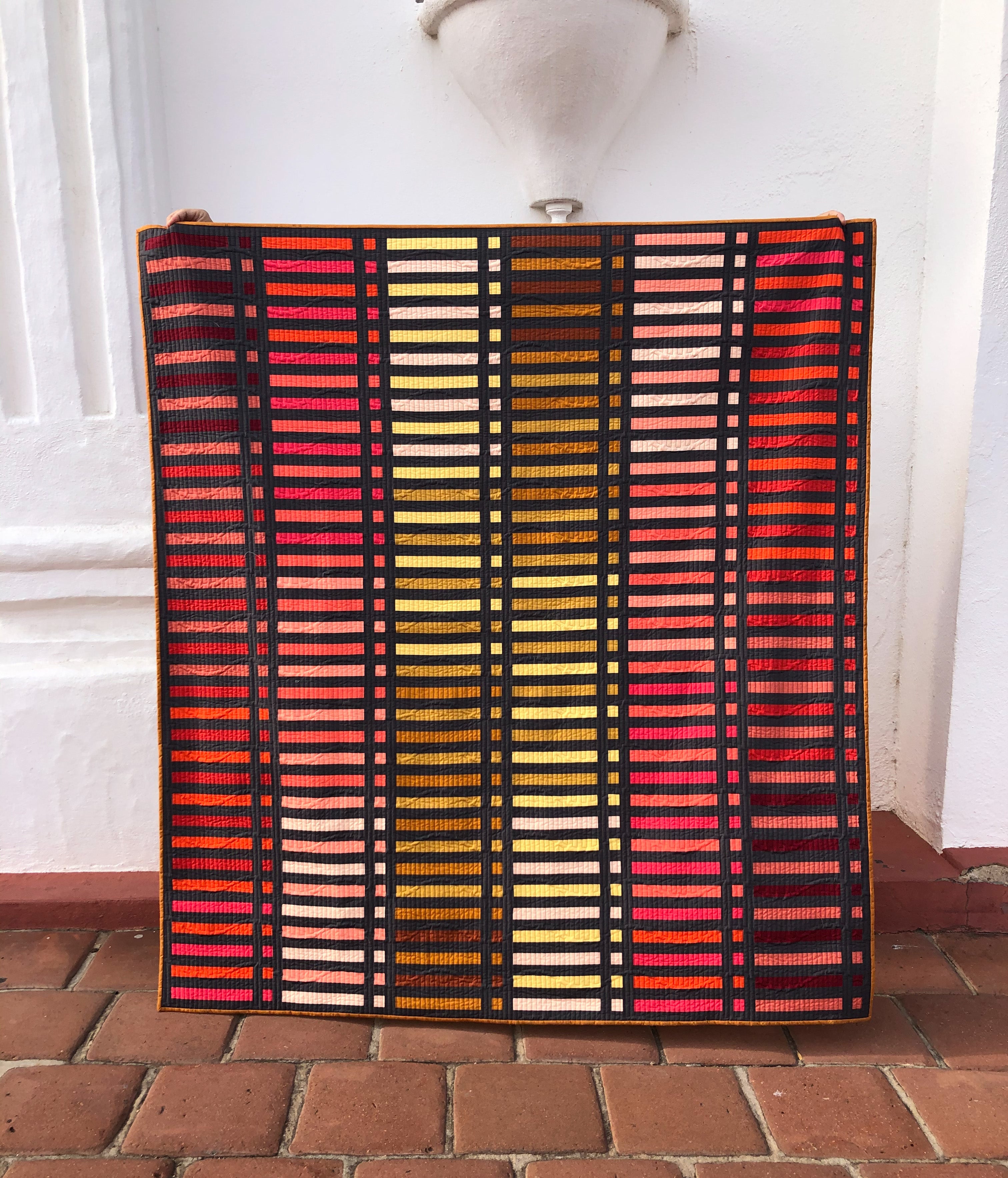 Rhythm Quilt Pattern is now available!
This is my favorite part about launching a pattern.....going through all of the pretty pattern tester quilts and sharing them with you! This group of quilters help make pattern writing possible. They check my math, make sure my instructions make sense and create some GORGEOUS quilt samples. I mentioned on Instagram this morning that I love the fact that quilting really brings people together. In a sense, it's like we are all collaborating, which makes the process not only fun, but very rewarding! Let's take a look at their quilts, shall we?
.
First up is Debbie from @sweetlittlequilts . She created a really sweet baby quilt and even quilted it herself on her long arm. I love that she used lots of printed fabric with this. Adorable!
.
.
.
Look at this quilt-crinkle after it's first wash!
.
Next up, we have Allison of @allison.ramsing! She used fabrics from the Florida collection by Sarah Watts of Ruby Star Society! I love how she grouped her fabrics for this, it keeps the eyes moving horizontally across the whole quilt versus up and down each column. She also used a darker Speckled fabric by Rashida Coleman Hale for the background and it couldn't be more perfect!
.
.
.
Moving on to Jenn of @jennbquilts! She used some really gorgeous greens and blues to create this throw size quilt. She also used some Ruby Star Society Speckled fabrics! The cool colors remind me so much of summertime by the ocean. I love it so much!
.
.
 .
Next up is Cait of @caitgiselle. She also used a cooler color palate. I love that she had her darker colors meet in the middle. It's the opposite from what I did with my Rhythm quilts, but I love how it turned out!
.
.
Next up is this super dreamy neutral color palate by Kelly of @ksfquilts. I am seriously LOVING this!! 
.
.
Next, I'm taking you to a tropical vacation to see Tonya, of @quiltandarrow's gorgeous creation! This quilt makes me want to sip some sort of fruity cocktail by the beach! Love it!
.
.
.
Now lets travel up to Canada to see Linda, of @bluebarnquiltco's Rhythm quilt! She added a super fun element of using striped fabric as her horizontal lines. I LOVE how the fabric and the pattern play off one another! Linda also has kits for this quilt and she ships internationally!
.
.
.
Laura of @finleyfabric made this stunning Large Throw size Rhythm quiltusing Bonnie and Camille's Basic Collection. It's so pretty!!!
.
.
.
Erin of @lovesewmodern created another rainbow inspired quilt. She used an arch quilting motif which really adds to the rainbow idea, which I love! These colors are so saturated and beautiful. I also love there its an even mix of prints and solids!
.
.
Laura of @silversstitches used stunning shades of yellow, orange, reds, pinks and purples and they're all SO pretty together!
.
Jenn of @jenniekay_quilts used subtle shades of coral, purples and pecan to create SUCH a gorgeous small throw quilt!!
.
.
Elizabeth of @elizabethboltenstudio packed a punch with her darker background! Her colors are very soft and soothing, yet the combination of everything makes it very striking! She has kits for this quilt in her shop!
.
.
Kara of @hollandhomesteaddesigns made a gorgeous neutral baby size Rhythm!
.
Next up, Brittany of @hopscotchcotton made this STUNNER of a quilt. Just look at those colors! It's also another example of how the background color can really add to the effect of this design!
Next is Kristin of @watersidehearth! She used some of my favorite Kona pinks & purples, with a super pretty light periwinkle background. It's perfect!
.
.
Last but not least, we have Nuria of @fabricstork. She knocked it out of the park with her fabric choices. I also love how the quilt has a "mirrored" effect with the color placement! She has kits for this quilt in her shop!
.
..
..
..
.
.
. 
LINKS: