Interwoven Quilt Along - Week 7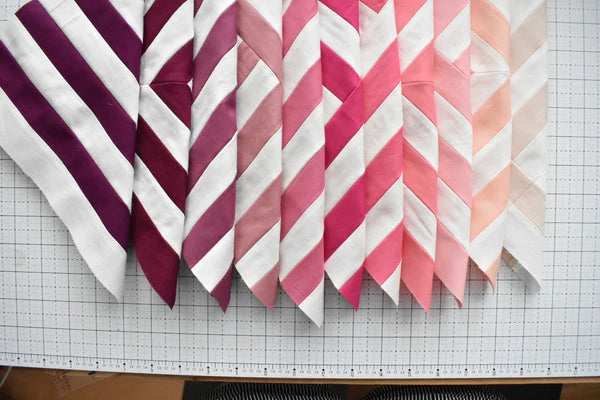 It is Week 7 of the Quilt Along, friends! We are so close to having a finished quilt top!
What do ya'll think of my colors?! I'm SO excited to start putting them all together!
This week is a catch up week, so if you got a little behind, you can use this time to keep making those blocks!
Need some ideas for your leftover blocks? You will have some left over strip segments, as well as part of your B3 blocks. (not to mention, you'll have more scraps after you square up your quilt next week). I hate wasting fabric, (and I'm sure you do too), so here are a few ideas of what to do with your leftovers!
1. Make a mini-quilt. This lovely little patchwork was created by Amanda (
@sewhyde
). It's so beautiful and I love the message in the center!
I'm thinking I'll create a mini quilt with my scraps. It'll probably be a baby quilt or a wall hanging. I'm still trying to decide!
2. How beautiful is this quilted pillow by Jeannine Damstetter (
@pd13jd
)? I love it so much!
3. If you wanted to create one smaller project (or several smaller projects), consider making a cute zipper pouch like Katie Millener (
@katesmakesandcreates
) did!
.
Next week is our FINAL week of the quilt along! I'll cover how to assemble your quilt top and ideas for quilting your quilt. One lucky winner will win the GRAND PRIZE, and have their Interwoven quilt quilted by Jess of
Threaded Quilting
!
Remember to keep using the hashtag #interwovenQAL. I love seeing your beautiful quilts pop up on my feed!