Interwoven Quilt Along- Week 8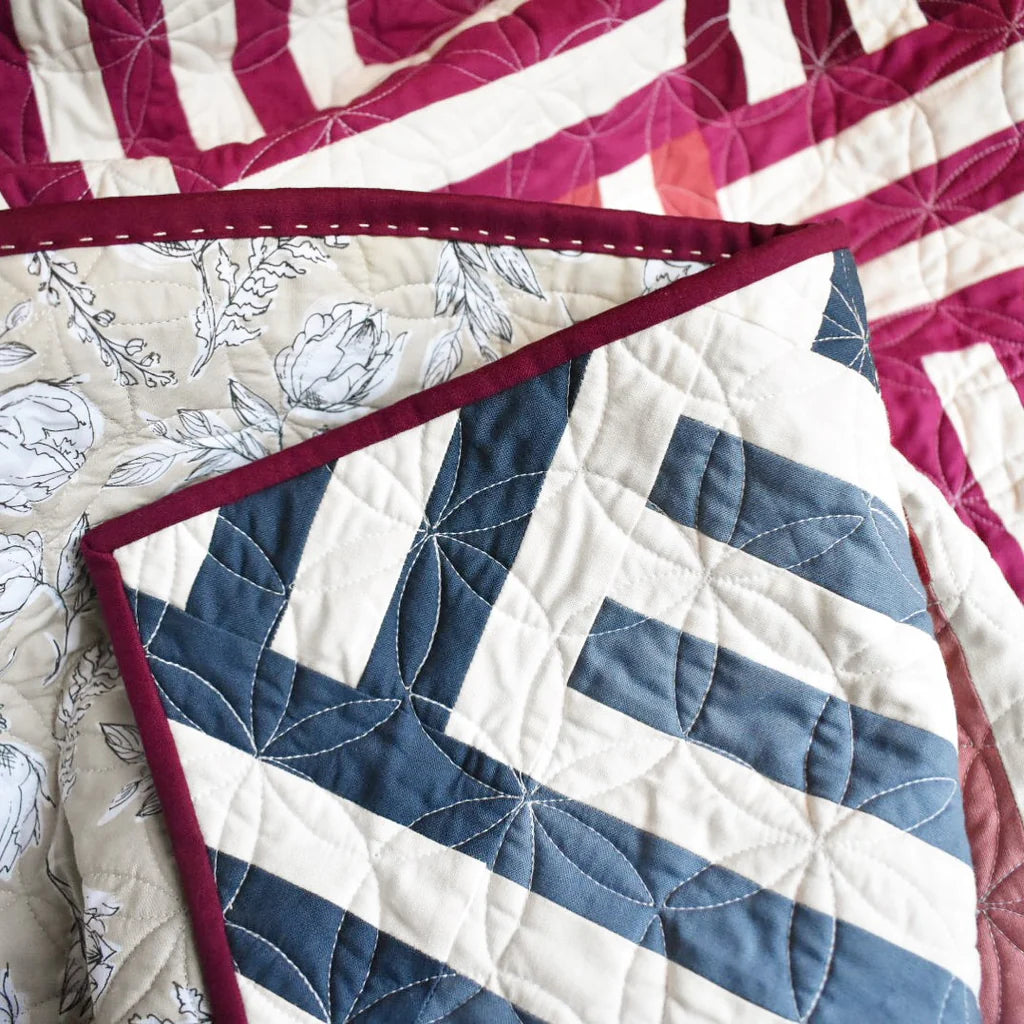 FRIENDS! It's the last week of the Quilt Along! We are SO close!
.
.
This week, we are sewing our blocks together to create our quilt top! Who's excited?!
.
If you've never created a quilt top in a diagonal row construction, then you may or may not be a little curious about how it works! I include a diagram in your pattern, but I'll also show you with photos below. 
.
First, you'll want to lay our your blocks. You can either do this on the floor or on a design wall. I like to lay them all out first just to make sure that they all look okay. Double check with your pattern/ coloring page to make sure your blocks are all facing the right direction!
.
.
Next, you'll begin to create your rows. Place each block right sides together, pin in place if desired, and sew a 1/4" seam along side the two blocks. 
TIP! I like to chain piece my blocks, so that I'm not getting up and down from my sewing machine as much. You do have to be careful that you keep your blocks facing the correct direction when you do this, so I typically pin my blocks in place and sew my seam on the side with the pins. This is another example of when you find your rhythm and flow, it'll go by quickly!
.
.
Snip those threads or (chain).
.
Double check your diagram, and continue to sew blocks together. As you're feeding blocks through your machine, line up your strips as necessary. 
.
.
Continue to chain piece until you have the entire row created.
.
.
Once the blocks in the row are sewn together, go to your ironing board to press your seams. I recommending pressing your seams to one side so that you can nest your seams as your sew your rows together. For example, for the first row, press your seams so that they are to the right side. For the second row, press your seams so that they are to the left side. Continue to alternate from row to row. (I'll show you a photo of nested seams in a second!)
.
.
Once you create all of your rows, you can start to sew them together. (Or you can sew as you go, as I like to do!)
.
When you sew your corner block to your first row of 3 blocks, make sure the corner block overlaps the two seams by 1/4". 
.
.
.
..
For my row seams, I like to press those open, just to reduce bulk... but if it's easier for you to press them to one side, you can do that too! 
.
.
Once all of your rows are sewn together, now your can trim your edges!
.
.
You'll need a long ruler, as well as a square ruler. I like to trim the edges first, then trim the corners. 
.
.
.
.
 Voila! You did it! 
.
.
Remember to be extra careful with the edges. You cut along the bias of the fabric, and you also cut a few seams (which is why the shorter stitch length is so important when piecing your strips).
.
I've gotten several requests for quilting suggestions for this quilt. I've done a little bit of everything for my quilting!
1) For my husband's Interwoven, I did a mixture of hand quilting and machine quilting. This was pretty time consuming and probably took me about 2 months to complete, but the texture is so worth it!
.
This quilt has already been in washed and is in everyday use at my house :)
.
2) The second option that I wanted to share with you guys, is plain ole' straight line quilting with your walking foot. With my fall Interwoven quilt, I stitched diagonal lines, 1" apart in both directions. This option is MUCH quicker and less precise than the first.
..
3) Lastly, you can choose to do an edge to edge design. Many people do these types of designs with their domestic sewing machines....or you can choose to have it long armed. This quilt was quilted by Jess of Threaded Quilting. I have a Hand Quilted Binding tutorial here. 
..
Speaking of Threaded Quilting, she is the sponsor of our GRAND PRIZE!
One lucky winner will be randomly chosen from the #InterwovenQAL hashtag on Instagram to win FREE long arm quilting on your Interwoven Quilt! If you've already quilted your Interwoven (or have special plans to quilt it yourself), she'll cover $130 towards any quilting (which would cover a 60" x 80" size quilt).  
Side note: your account must be public, otherwise, I won't see your post! Winner will be announced on Instagram next Monday, 3/25.
.
Jess does incredible work. In fact, she's quilted many of my quilts in the past! Who ever wins this prize will be very lucky indeed! Be sure you're following her on Instagram to see what her latest projects are!
.
Well friends, it's time to wrap things up! Thank ya'll so much for joining along and creating SUCH beautiful version of my pattern. It is a true honor to witness such beautiful creations and I'm excited to be a small part of it.
.
If you haven't heard, I'll be hosting a Vintage Lace Quilt Along in a few weeks! I hope to see you there!
.
Brittany