FREE mini Patchwork Pumpkin block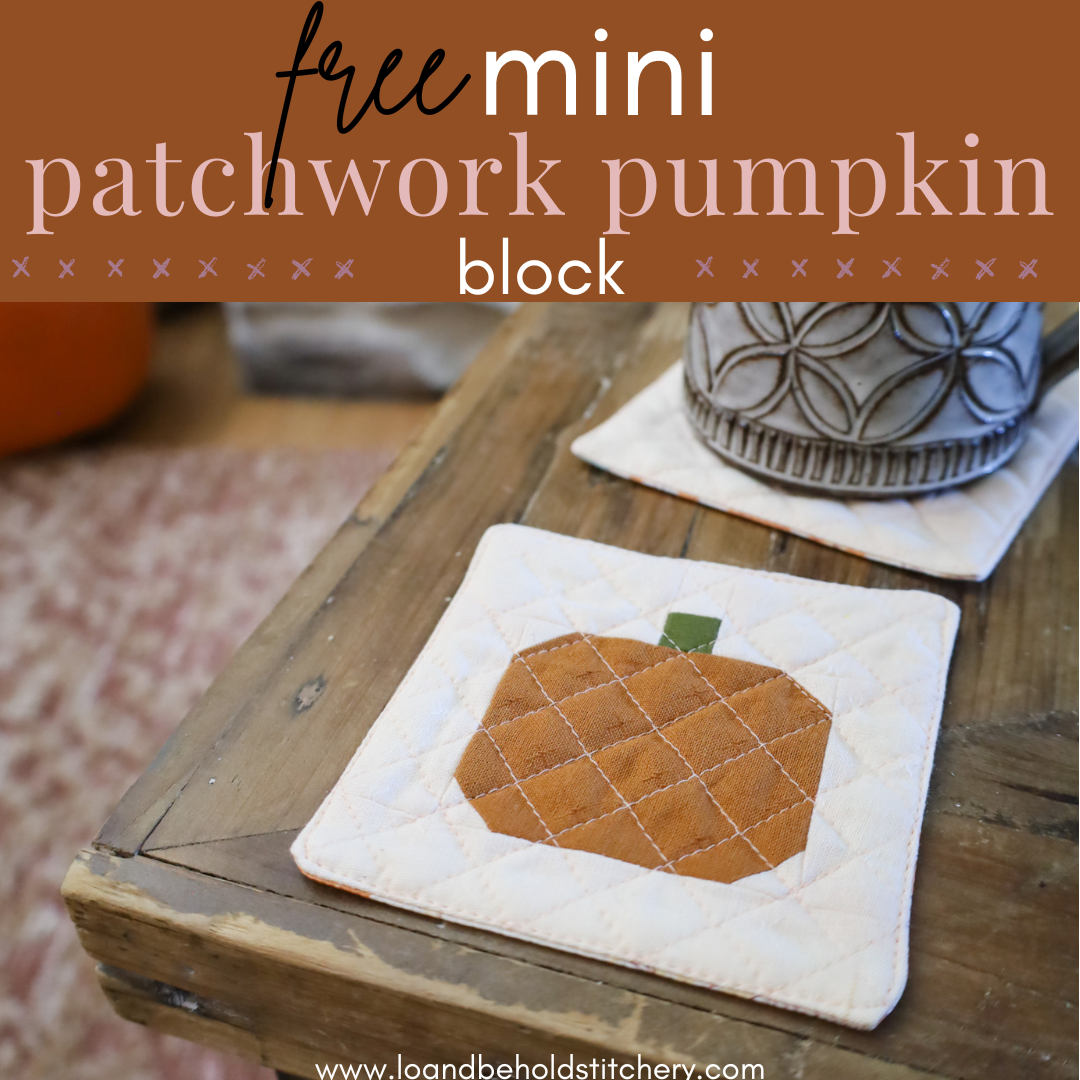 It's almost October! I'll refrain from telling you how much I love this month, because I'm sure we all do...right? Crisp air, warm drinks, fall foliage....it might all be cliche, but I really can't get enough! Well piggy-backing off my Free Mini Heart Coaster tutorial, I wanted to add some fall decor to our home and given how much I love coasters, this seemed like an appropriate make! 
.
You can download the FREE one-page pattern for the mini block here.
Once you have your 5.5" block, you don't necessarily have to make a coaster out of it... make several blocks and create a pillow, bag, placemats, a quilt....the possibilities are endless. But alas, I'm a coaster fanatic so I'll share how I create these super quick and easy mini-quilts!
Before you get started, be sure to download the pattern for this block above!
Place the block on a piece of batting that is at least 1-2" larger than the block on all 4 sides. Pin in place if desired. 
.
Quilt these two layers together. I did diagonal lines that are about an inch apart. I marked the first line with a hera marker, then after that, I used the edge of my presser foot as a guide. 
.
.
.
.
.
Trim away the excess batting so that it aligns with the edge of the quilt block. 
.
Create a backing piece of fabric that is the same measurement as your block/batting unit. Place the backing fabric right sides together with the block and align the edges. Pin/clip in place.
.
.
.
Sew a ~1/4"- 3/8" seam around the perimeter of this unit. Leave about a 2" gap from where you started and where you end the seam. Backstitch at the beginning and end to secure the seam.
.
.
.
.
Clip the corners of the coaster to decrease the bulk, be careful not to cut into the seam allowance!
.
Flip the coaster inside out and use a blunt tool (like a screwdriver) to "poke" out the corners. 
.
.
.
.
.
Sew about 1/8" around the perimeter of the coaster, closing up the gap that you left in the previous step.
.
.
.
Bury the threads by tying a knot between the needle and top thread and burying those tails.
.
.
.
You can download the FREE one-page pattern for the mini block here.
Enjoy!