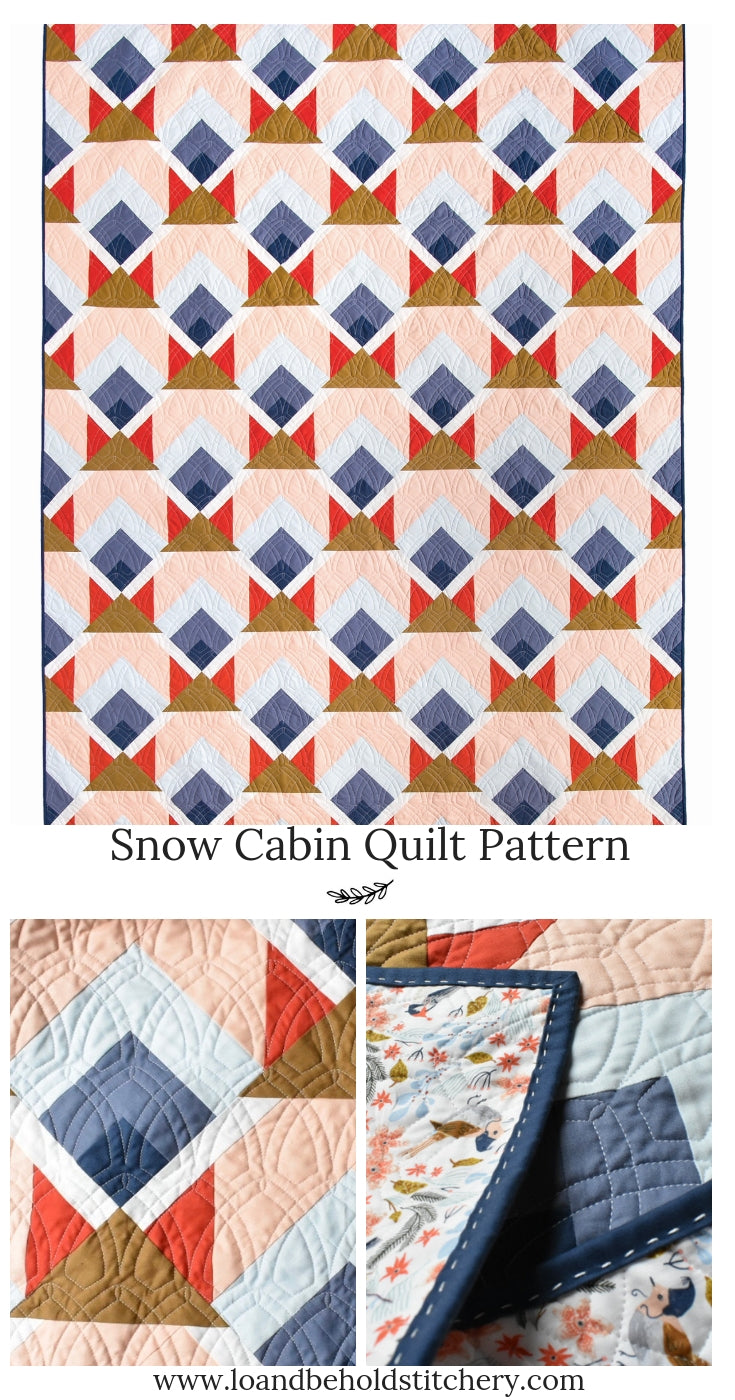 Snow Cabin is HERE!!
I can hardly contain my excitement! I drafted this pattern back in July (?) for my friend Elizabeth over at Quilter's Candy Box. If you're a subscriber, you received Snow Cabin last month!
I've really been inspired by repetitive, geometric designs lately, and I wanted to create something bold, yet with potential for depth. I love all of the possibilities with this quilt! It seems to have a completely different look, depending on how you play withe your colors. I love Kenzie's  super calming low volume quilt, see below. She put an emphasis on the upper triangle, while the rest of the colors slowly and softly blend together.
(Insta: @yt.handcrafts)
Or, you can create a different look, with the emphasis shifted elsewhere.
Needless to say, it's a super fun quilt to play around with!
My original color palette was inspired by this adorable print from Dear Stella. Just LOOK at these birds!
Kona Leather is one of my favorite colors, so I love mixing it with these shades.
Also, I am now obsessed with with this new (to me) way of binding my quilts. My friend Eliane, taught me how to do it...she's the best! I wrote up a quick blog post with some tips if you want to give it a try. Find it here. 
And, just look at this quilting that Jess from Threaded Quilting did! It's called Hammersmith and it compliments the design so well! Jess, good job on picking this one out! 
This quilt pattern is written for three sizes: Wall Hanging (14" x 28"), Baby (42" x 42"), and Throw (56" x 71"). Since it is block based, you can easily add or subtract blocks to customize whatever size you'd like. 
As always, this pattern wouldn't be possible without my amazing testers! They tested this pattern back in the summer, so it's exciting that I can finally share it with you all!
Check out Joy's scrappy wall hangings! She always brings a fun spin to my patterns!
Insta: @themakingsofjoy
Check out this gorgeous, crisp fall wall hanging made by Alexa of Maple Winds Quilts. Insta: @maplewindsquilts
Kasie of @marmalademoodquilts created this bright and summery wall hanging! I love the way the light is shining through the trees!
Amy of @thepeppermintpenguin created this super dreamy baby quilt. I love it!
 Corinne of @cbenkenworks created this Christmas themed quilt. I love the jewel tones and darker colors! And look at that stitching! So unique!
Katy created this light an airy Snow Cabin. I love every singe color in this quilt!
insta: @katyfaircloth
Bess Casey from Side Lake Stitch created this charming baby quilt. So gorgeous!
Kristin McCauley of @watersidehearth created this stunning solid throw-size quilt that give me all the summer-y vibes!
Melissa Buza of Anchored Home Sewing created this darling baby quilt. I love how the quilting mimics the playfulness of her fabrics. Well done!
Patrizia of @patiagnesd made this super bright and fun baby quilt. I love the bold colors!
I'm so excited to see what you all will create! Be sure to tag me on Instagram and use the hashtags #snowcabinquilt and #loandbeholdpatterns!
Happy Quilting!
Brittany