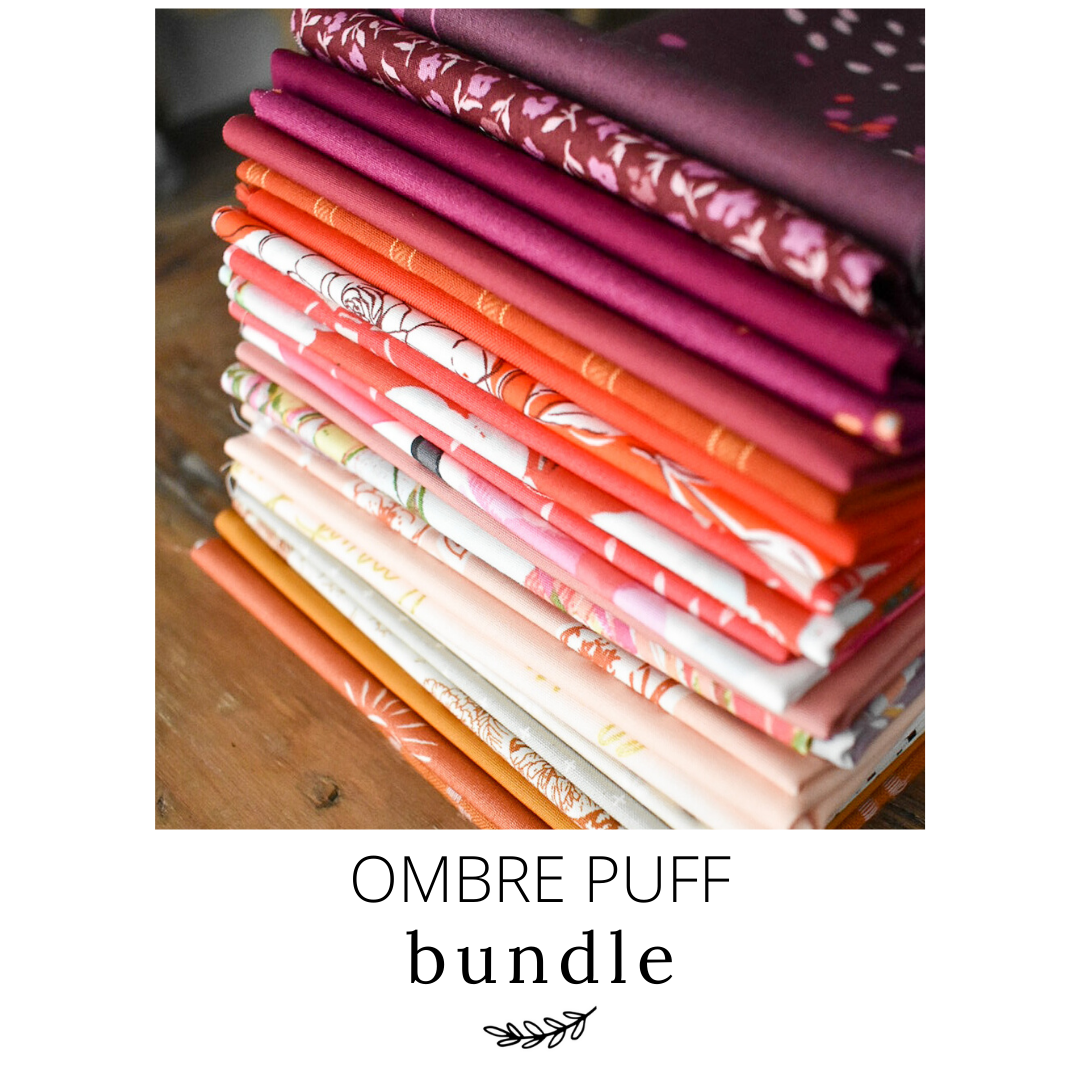 Ever since I shared my free
Ombre Puff Quilt tutorial
a few weeks ago, I've gotten numerous messages and emails asking if I could share the fabrics that I used! I had no idea that there would be such interest in these. Since they were all from my stash, I had to go searching for some of their names. A few of these fabrics are staples in my stash, and I know them by heart! But admittedly, there are a few fabrics that I'm unsure of. If you happen to know the name, feel free to let me know!
A- Painted Prairie Anthesis; Art Gallery Fabrics
B- Unknown
C- Piccadilly; Art Gallery Fabrics
D- Unknown
E- Promenade Plum; Art Gallery Fabrics
F- Compassion Ruby; Art Gallery Fabrics
G- Plum Preserve; Art Gallery Fabrics
H- Kona Deep Rose; Robert Kaufman
I- Kona Rose; Robert Kaufman
J- Scatter Printemps; Art Gallery Fabrics
K- Kona Pimento; Robert Kaufman
L- Valley Collection; Moda Fabrics. This one was hard for me to find. An alternative would be Joy Plante Coral by Art Gallery Fabrics
M- Twinkle Star Berry; Art Gallery Fabrics
N- Covent Garden; Art Gallery Fabrics
O- Everlasting Blooms Berry; Art Gallery Fabrics
P- Pastoral Crescendo; Art Gallery Fabrics
Q- Rosa Peach; Rifle Paper Co.; Cotton + Steel
R- Stitch in Saddle; Moda Fabrics
S- Fireflies Glow Metallic
T- Kona Cedar; Robert Kaufman
U- Kona Foxglove; Robert Kaufman
V- Painted Desert Printemps; Art Gallery Fabrics
W- Wildwood Peonies in Pink; Cotton + Steel
X- Grid Caramel; Moda
Y- Unknown
Z- Always & Always Luminance Metallic; Art Gallery Fabrics
AA- Pale Persimmon 15; Peppered Cotton by Pepper Cory
BB- Happily Ever After; Art Gallery Fabrics
CC- Rambling Rose Briar; Art Gallery Fabrics
DD- Goodness Thoughts; Art Gallery Fabrics
EE- Bright Star Washed; Art Gallery Fabrics
FF- Kona Shell; Robert Kaufman
GG- Wandering with Doe; Art Gallery Fabrics
HH- Black and White Flight; Alexia Abegg for Cotton + Steel
II-Aerial Blush- Art Gallery Fabrics
JJ- Eloise- Art Gallery Fabrics
KK- Grid Crossword
LL- Parade in Lavender; Moda Fabrics
MM- Sonic Flora; Art Gallery Fabrics
NN- Aquarelle Study Tint; Art Gallery Fabrics
OO- Add it Up Khaki; Moda Fabrics
Backing/Binding: Calico Days Lavender by Art Gallery Fabrics
.
.
.
Since I was already in the process of looking up the names of the fabrics, I decided to create a bundle! Fair warning: fabric has been hard to come by. I tried to include each piece that I used in my original puff quilt, but some of the fabrics are out of stock/out of print. I made a few replacements and substitutions, and honestly, I really love this bundle!! 
.
.
.
If you've seen my Ombre Puff Quilt Tutorial, you know that you need 21 fat quarters for the Small Throw,  23 for the Large Throw and 35 for the Bed size. I shared that while I made the Small Throw size, I used more than the required 21 FQs, to get a wide variety of fabrics. Some of the fabrics are only used as one puff, while other fabrics are in 15 puffs. So when I was creating this bundle, I wanted to give you a variety, in case you also wanted to do the same thing...or you can simply use these to make a larger size. Regardless, I do want to mention that in my original Ombre Puff quilt, I had some shades of navy, but I did not include those in this bundle because they were sadly out of stock. So that being said, use these fabrics as your "jumping off point" and add to it from your stash, if you wish. :)
.
.