a FREE app for EASY quilt mock-ups!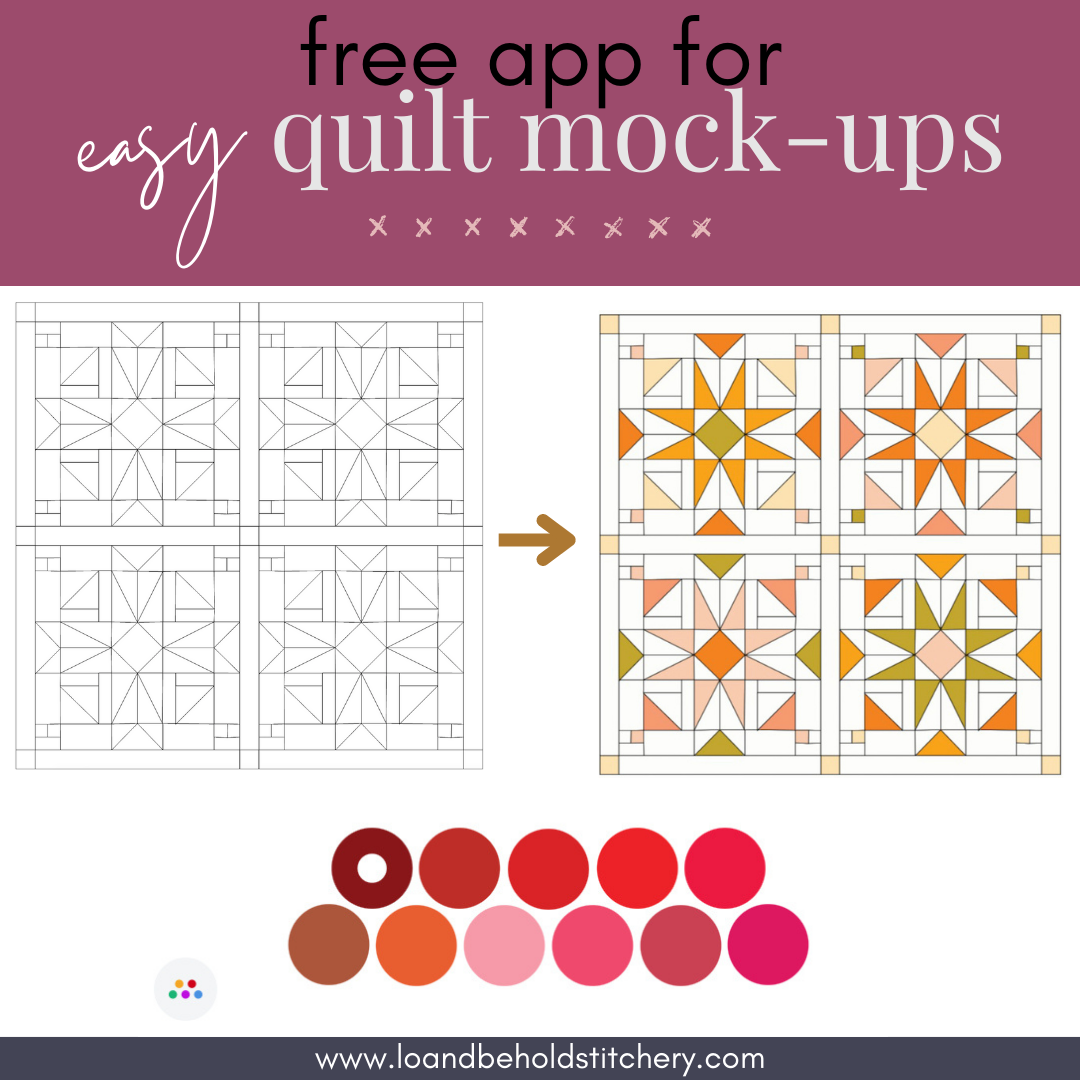 Quilt mock-ups are such a nifty little modern invention that really help you visualize what you quilt will look like before you have any of your fabric on-hand. Most of my quilts start as a mock-up because I want to narrow down fabrics and color placement before I get started. This usually sets me up for success so that I'm not wasting time and fabrics trying to figure out how I want my quilt to look. A lot of times I start with a "vision" but that idea can morph as I start to play around with various ideas....and again, working out those ideas beforehand is such a game changer!
The quilt pattern used in this blog post is Mosaic Star, which can be found here. 
We also make Mosaic Star inside our comprehensive online course, Triangle School, which will re-open for enrollment Spring of 2023. Click here for more info about Triangle School!
.
Full disclosure, I use EQ8 for my quilt mock-ups but over the years, I've gotten lots of questions about user friendly programs that ya'll can use as well. I believe EQ8 runs around $300, and while I think it's a great program, especially for importing fabric swatches, I totally understand if you don't want to drop $300 just to make a quilt mock-up! If you're familiar with Adobe products, many people use Adobe Illustrator, but again, that takes a lot of technical skill and you do have to pay for the subscription. So I've been on the lookout for a free and easy option, and I think I found a contender!
Over the years, I've heard good things about the Recolor App, so I've always had that as a suggestion for quilters who are looking for a free and easy way to create mock-ups. Recently I downloaded the app just to see how easy it was to use, and let me just say, it was a great experience! I wouldn't consider myself super tech-savvy, but the app was very easy to navigate and use. Also- this blog post is not sponsored in any way....I genuinely want to get the word out and all of these thoughts are my own and in no way influenced by Recolor or anyone else. They have no clue I'm doing this. 
One thing about the app is that you can really only use solids. I don't think there is a way to import fabric swatches....if there is, let me know! If you don't sew with a lot of solids, you might not prefer this app. Or you could simply use it as a jumping off point to as least plan your color scheme, and then later substitute in your prints.
Another downfall is that you'll have to color-match the solids that you put into your mock-up. If you have Kona Fabric Swatches, this shouldn't be too difficult, since they have 365 solids. You could also match with Bella Solids or Art Gallery Fabrics. Both of those manufacturers also have fabric swatches that you can purchase which can be super helpful. Another option is to bring your mock-up to a local quilt shop and match up fabrics there. 
So I wanted to walk you through how to use the app. First and foremost, it'll be easiest if you take a screenshot of your coloring page before you get started. That way it'll be fresh in your photo album and you won't have to go hunting for it. All Lo & Behold Patterns have a coloring page included with them. If you're looking for a coloring page for Mosaic Star (coming November) click here. 
Here's what the app looks like in the App Store.
.
Then when you Open the App, click "Ask App not to Track" and then you'll get a screen like this. DON'T click the green button. For the free version of the app, click the "x" in the top left corner
On the next page, you can do a tutorial, but honestly, with what we're doing it's so straight forward that a tutorial really isn't necessary. I promise!
.
So then you'll be on the Home Screen, and it should look like this. Click on "My Works" on the bottom menu. 
.
Then click on "Imported"....
.
Then you'll click on "Open Import" then "Open Photos" and that'll take you to your photos. At this point, you'll see the screenshot of your coloring page. Go ahead and select that
.
It'll bring you to the screen below. You can crop the image and zoom in and erase any lines if you need to. Then click "Next".
.
Next, it'll ask you for a style for the lines in the image. I just click "Original."
.
Then you'll see your coloring page in the "Imports" section. You'll click on it then click "Continue Coloring." 
.
Next you'll have to watch an ad....since we're using the free version of this app, it comes with the territory, I suppose. So Click "Watch Video to Unlock." Once the video is over, click the "X" in the top left corner. Then you'll be brought to this screen. Click the dots in the bottom left corner.
.
Click "Solids". I'm also really curious about the "My Palettes" Section. It sounds like a neat idea to build palettes that you know you're going to use. You can also create your own color tones in this section, which is nice!
.
From here, you can swipe left or right to get to different color families. Click on the dot to select that color, then click on the shape in the quilt that you want to color in. Note that you can zoom in with your fingers, which is super nice for those smaller pieces!
.
When you're done, click the green check mark in the top right corner. Then click "Next" and then "Share with Friends." That allows you to save it to your phone. The "Publish to Gallery" option is for the paid app.
.
. 
.
There you have it!! Your mock-up should be saved on your phone at this point. It'll have a lovely "Recolor" logo on the bottom to go with it, haha. But hey, you win some you loose some, right??
.
.
Again, this app works for SOLIDS, but if you know of a free app to create mock-ups with prints, let me know! 
.
Enjoy!