7 FREE Christmas Sewing Projects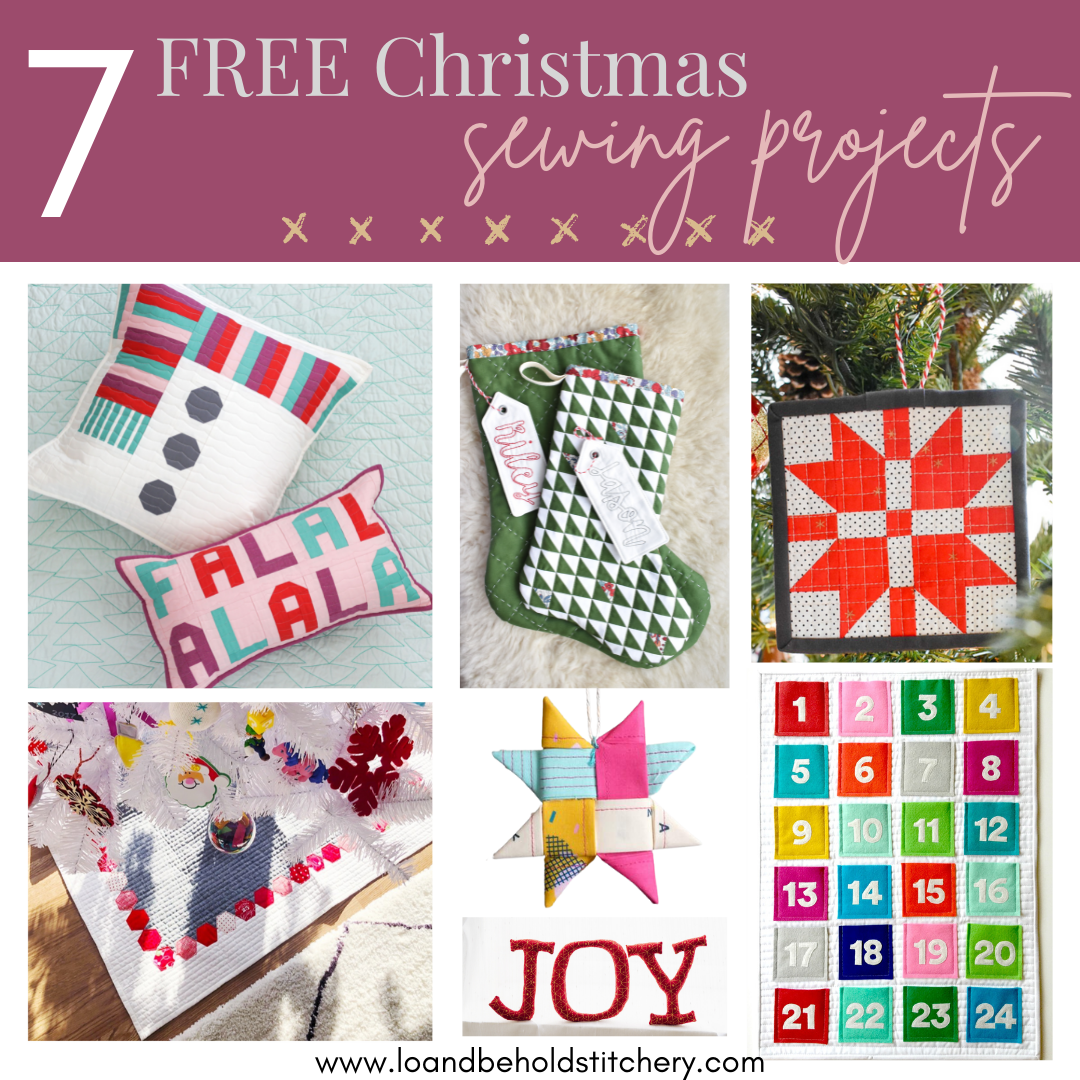 It's a warm October day in North Carolina as I write this blog post & just heard on the radio that we are less than 60 days away from Christmas!  Hot apple cider, donuts, pumpkin patches, and crisp weather have been on my mind for a while now, but as quilters, we should already be thinking about Christmas...especially if we want to make quilted gifts & quilted decor for our own homes! But, let's be real...many of us are still finishing up some of our summer UFO's after spending most of the summer playing in the sunshine. 
As we neared towards the Christmas season last year, I noticed some of my favorite designers created beautiful Christmas projects that I wanted to round up & highlight for y'all before this year's busy holiday season began. THIS will be the year I make at least one fun quilted item for the holiday season!
.
First off, let's begin with Lindsey Neil's (Pen & Paper Patterns) free Holiday Pillow Patterns. As a person that loves to keep her Christmas decor up from November 1st through January 15th, I tend to err on the side of "winter" decor. While Santa is wonderful, he only visits one day a year, so I love snowflakes, snowmen, lots of texture, and twinkly lights. Decorating with the five senses is so important to me, so changing out pillow covers is something that I already do.  It's an easy way to add decor without adding more clutter! Lindsey's patterns are the perfect way to celebrate winter without adding more clutter in our homes.  They would also make a fun gift for a friend or host of a holiday party! 
Instagram: @penandpaperpatterns
.
If you're not a person that loves decorative throw pillows, another wonderful option is the free Joy Pillow Pattern from Raye at The Homebody Company. I love that these can be displayed anywhere in our homes to spread a little quilted "Joy"!  It's a quick make & could be a really fun way to include your kids in your sewing project! Have them trace the pattern on to the fabric or let them stuff the letters with Poly-Fil for a family fun craft. 
Instagram: @thehomebodycompany
.
If you struggle finding the perfect Christmas tree skirt, Nicole (Modern Handcraft) has created the most adorable tree skirt pattern that I believe every quilter should make! Her Hexagon Tree Skirt uses hexies as an accent color...so if you're like me and not brave enough to attempt an entire hexie quilt, this can be a fun way to dabble with hexies.  My favorite part of her pattern is that it isn't a round tree skirt...it's square, which I don't believe I have ever seen before!  If you're wanting the gifts under your tree to be nestled in something extra special, be sure to head on over to Nicole's blog & use her step by step tutorial (with pictures!).
.
I think one of the most iconic Christmas decorations is the Christmas stocking. One of my favorite things about Christmas stockings is that there are two different types of families: families that have matching stockings & families that let everyone choose their favorite stocking, if you're a person that loves matching stockings, I would recommend Eliane's (Patchwork and Poodles) Christmas Stocking Pattern! She offers two sizes, small & large, and several different ways to customize it. Her Stocking Tag tutorial looks like so much fun as well!  If you already have stockings you love, that is a wonderful option to still squeeze in some slow stitching during the holiday season.
Instagram: @patchworkandpoodles.
.
Next up is my mini Christmas Joy ornament! I shared this free tutorial last year, based off of my full size Christmas Joy quilt pattern. I love the classic look of this red and white motif and now, you can not only decorate with a cozy quilt, but also a mini quilt block on your Christmas tree. :)
.
Along the same theme of Christmas Ornaments, I absolutely love the thought of this Scandinavian Woven Star Ornament from The Weekend Quilter! This unique technique is a really fun way to use up scraps and introduce some pretty fabrics and textures to your ornament collection. I'm actually hoping that I can make a few of these in the coming weeks!
Instagram: @the.weekendquilter
.
I've actually never used an Advent Calendar. Is that strange? Growing up, it just wasn't something that we did, but I honestly love the thought of them! If I ever had one, I would want it to look like Modern Handcraft's Quilted Advent Calendar...that's for sure! I love how fresh and modern this is. What a fun way to countdown to Christmas...and maybe enjoy a few treats in the process. :)
.
Instagram: @modernhandcraft
.
I hope some of these projects inspired a little holiday spirit in you just like they did for me! Instead of letting the holiday stress get to you this year...use this list as an excuse to buy some pretty new holiday fabric & stitch your way into the most wonderful time of the year. ;) Even though quilting is what makes our heart sing, sometimes it's good to take a step back & stretch our skills into some other sewing projects!  I would love to see what you create this holiday season...be sure to tag me and the other makers on Instagram! 
.
.
Happy sewing!
-Brittany