10 Stocking Stuffers for Quilters!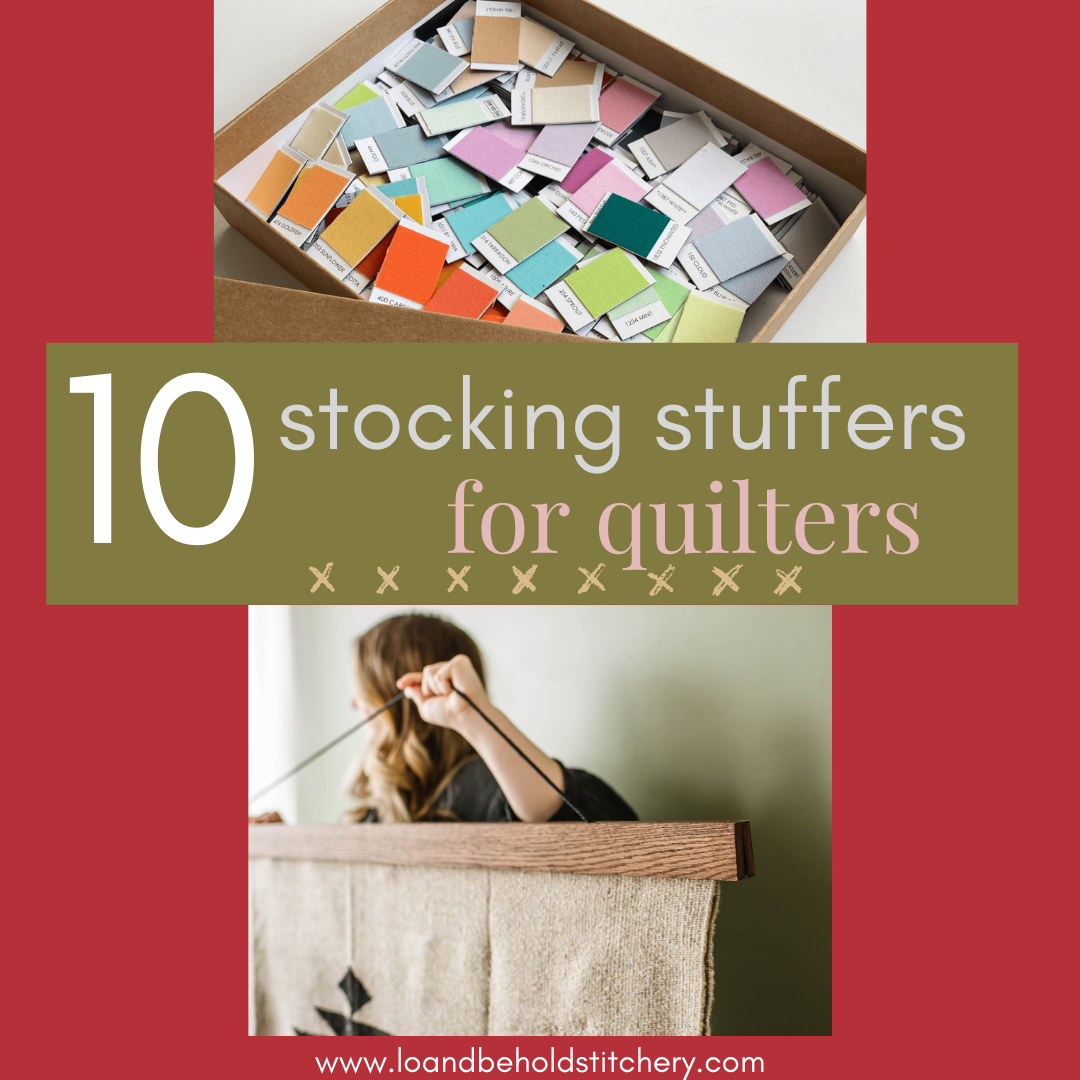 Being a small business ourselves, one of my favorite things to do is shop small at other "local" online shops!  I'm excited to bring you several small shops that have the perfect gifts for quilters & quilt admirers...that's right, you don't even have to make quilts to enjoy some of these beautiful items!
Woven & Woolly's Color Chips: As many of you know, my love for solid fabrics is strong & using the colors chips made by Woven Woolly make it so much easier to choose a color palette for a quilt. I really love the selection she has..so pick your quilter's (or your) favorite fabric manufacturer & start designing! My personal favorites are the

 

Kona,

 

Art Gallery Fabrics, and the

 

Peppered Cottons.
.
Lore Pemberton Prints: Lore' Pemberton has some beautiful art prints that quilters just seem to swoon after. She creates this mystical, old soul feel in her art with many of them featuring some quilt patterns loved by quilters' worldwide. She opens & closes her shop frequently to help manage her shipping demand...but a

 

gift card

 

is the perfect way to help add a little joy to those dreary winter months we are approaching!
.
.
Quiltfolk Magazine

: If you aren't subscribed to Quiltfolk Magazine...let me tell you, it is worth every penny! This quarterly, print only magazine has the most luxurious paper, beautiful images, and meaningful stories about quilters.  The subscription price can give a little sticker shock at first, but this "magazine" (with no advertisements) is more like a book & will serve as an heirloom for a long time to come!  I even have my own little collection started. Pair a single issue with a quilt pattern for a fun "quilty friend" gift!
.
Lamb & Loom's Handmade Tailor's Clapper:

 S

o many quilters swear by a Tailor's Clapper! Clint & Linli of Lamb & Loom make all of their clappers by hand & out of high quality maple wood. If you've never used one, they help trap the heat & moisture from your iron to make the flattest seam...perfect for quilts like Interwoven, Knitted Star and Deco which are all full of seams!
.
Quilt Hangers: While these technically might not fit in a stocking per se, I've been dying to get my hands on one of these Quilt Hangers! I absolutely love the idea of hanging quilts on the wall as decorative art. These quilt hangers make that process super easy & they look so pretty too! 
. 
Modern American Vintage Quilting Tools: Have you seen the beautiful seam rippers & hera markers from the makers at Modern American Vintage? I just love the mixture of various kinds of wood and shapes. Each one is truly a work of art!
.
Soap Escape Quilted Soaps

: 

Just when your family thought the bathroom was the one place in your house that didn't have quilts...surprise them with a quilted bar of soap! These delicious smelling soaps are in the shapes of beautiful quilt blocks & would make the perfect stocking stuffers for a quilt lover! I'm sure her Sugar Plum Fairy & Peppermint Joy are Christmas Bliss!
.
Meesh Quilts "Cool People Quilt"

: 

Michelle from Meesh Quilts definitely has created a fun brand with her "Cool People Quilt" merchandise. From water bottles to sweatshirts, surely something from her shop will brighten a quilter's day! I've even heard she'll fill her "Cool People Quilt" water bottle with fat quarters from her shop if you just ask...what a great gift to find under the tree.
.
Barn Quilts: Barn quilts are traditionally hung outdoors, but there is also a huge trend of displaying them indoors too! This is another great piece to add to the quilting gallery wall in any quilter's sewing studio! I've been following Red Rainboots Handmade on Instagram for a while and I love her style!
.
There you have it: 10 different quilting related gift ideas, perfect for a stocking stuffer or gift underneath the tree! Of course, I have to throw in that paper patterns make a great Christmas gift also! We also have a gift card option for our shop as well. 
.
What else would you add to this list? We love to find new shops and support small businesses whenever we can!
.
Happy Shopping!
.
Brittany