Interwoven Quilt Along- Week 2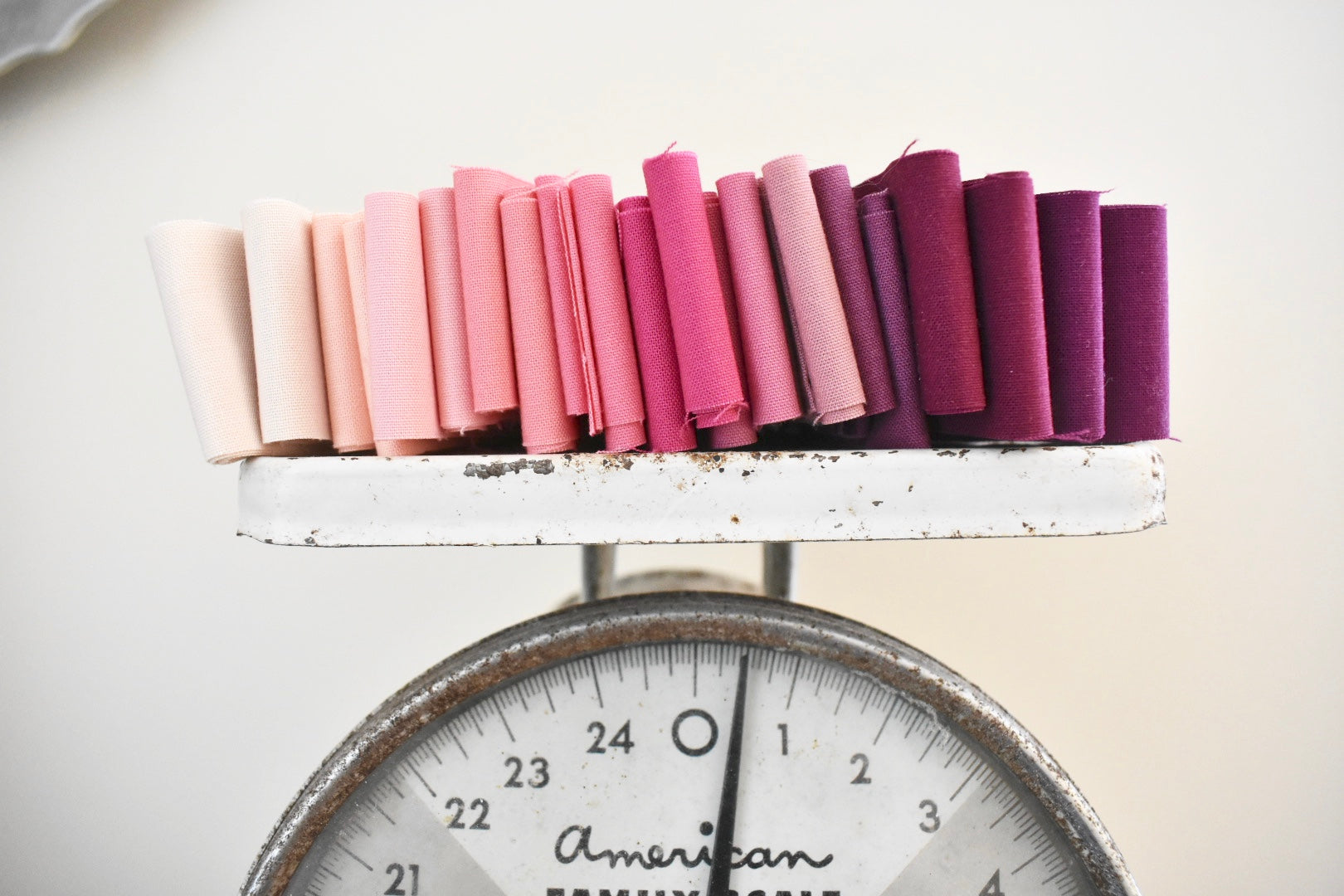 It's Week 2 of the Quilt Along!
This week, we are cutting our strips and perfecting our seam allowance. 
One thing that I wanted to point out: is if you are a starch lover, be sure you starch your fabric BEFORE you cut your strips. Sometimes starch can make fabric shrink (ask me how I know), so don't make the mistake that I (may or may not) have made in the past!
As I mentioned before, the Creative Grids Stripology Ruler is a huge time saver with this quilt! I cut all 164 strips in less than 20 minutes! 
Here are a few things to remember while using your Stripology ruler:
Make sure your folds are square, including the initial WOF fold. Sometimes pieces of fabric aren't perfectly folded right off the bolt. Double check your selvage edges and make sure those are perfectly parallel. You may have to press your WOF open, square up your selvage edges, then press a new crease in your WOF. Just remember, if your fabric isn't folded nice and square, then your strips will be a little wonky.
Using a fresh blade really makes a difference! My 45 mm rotary cutter seems to be the perfect size (I tried my smaller rotary cutter and my blade wasn't large enough to reach the fabric).
If your WOF is greater than 42" consider cutting off your selvage edge first. The ruler slots are 21" tall, so you'll want to make sure your folded piece of fabric is smaller than that. This also saves you a step later on; just make sure  you don't cut off too much. You'll need the full 42" WOF for the pattern.
Stay organized. Label your fabrics and match those with your coloring pages. Once your start making your blocks, it'll come in handy. 
Use the "stars" on the ruler! I love that I don't have to do math as I cut.
.
.
.
Perfecting your Scant 1/4" seam
This is probably the MOST important part of the pattern. I normally don't take too much stock on whether or not my 1/4" seam is scant. I typically just put my 1/4" presser foot on and go to town. However, since this quilt has SO many seams, if your seam allowance is off by even just a smidge, it'll really add up. So why is "scant" necessary? When you press your seams (either open or to one side), you loose a little bit of your fabric to the thread width. Also, your fabric has to go around your seam/thread width once you fold it to press the seam. So say the thread width and the fold width account for 1/32'nd of an inch. Pretty small right? Well, multiply that times 9 seams, and it adds up to over 1/4"! Take a look at the photos below. 
.
.
.
.
So how do you adjust your seam allowance? Adjust your needle position until it's just right. Consider using a 1/4" seam presser foot, or marking your machine with a piece of tape to help line up your fabric. Test your seam allowance by sewing ten 1.5" strips together lengthwise. (I strip pieced two 1.5" strips together, then cut those up into 4" units, then pieced 5 units together...see photos below).
.
..
.
.
.
As you are sewing your ten 1.5"x 4" strips together, measure your strips. If a strip is in the middle of two strips, it should measure 1". Outside strips (only one sewn edge) should measure 1.25". If your middle strips are larger than 1", your seam allowance is too scant. If they're smaller than 1", your seam allowance needs to be more scant. This may take some trial and error. Once you find the perfect needle/fabric position, consider using tape to mark your machine.
.
Below is how your strips should look when they're accurately sewn together. Remember, ten 1.5" strips sewn together using a scant 1/4" should measure 10.5".
..
.
.
If you use a 1/4" seam presser foot, pay attention to your needle position. You may need to adjust it a little to achieve a scant 1/4". The fabric might need to be right up against the guide bar, or only lightly touching it. I LOVE using my 1/4" seam presser foot and I always use it for piecing.... but don't get too comfortable with it. You still might need to make small adjustments. You can find a 1/4" presser foot on Amazon. They typically fit most machines, but for your best bet, find one for your specific machine brand. 
.
This week, our prize is sponsored by the amazing Maechen of @MaechenMarie! I've been following her on Instagram for a while now, and I'm absolutely obsessed with her work! She's a fellow quilter, but she takes it to a whole new level. She makes the most BEAUTIFUL quilted bags that are so fresh and modern. She always finds the best fabrics and pairs them all so nicely together. If you aren't already following her, go ahead and do that. You'll thank me later :)
.
Maechen is also participating in the Quilt Along...how fun! She is giving away this STUNNER of a bag (I'm actually kind of upset that I can't win it for myself, haha). Enter to win by posting a photo of your fabric strips to Instagram, use the hashtag #interwovenqal and give Maechen a follow! You can also find her Etsy shop here. 
.
..
..
Alright, ya'll! Have fun this week! Like I said, it's the most important week, so really take the time to cut those strips accurately and perfect your seam. It'll make your life so much easier later on!
.
Next week, we will start to assemble our blocks. See you then!
.
Brittany
.
.
.
.
I only suggest products that I love! This blog contains affiliate links, which means I receive a small commission when you purchase from those links.