Retro Ornaments Quilt Pattern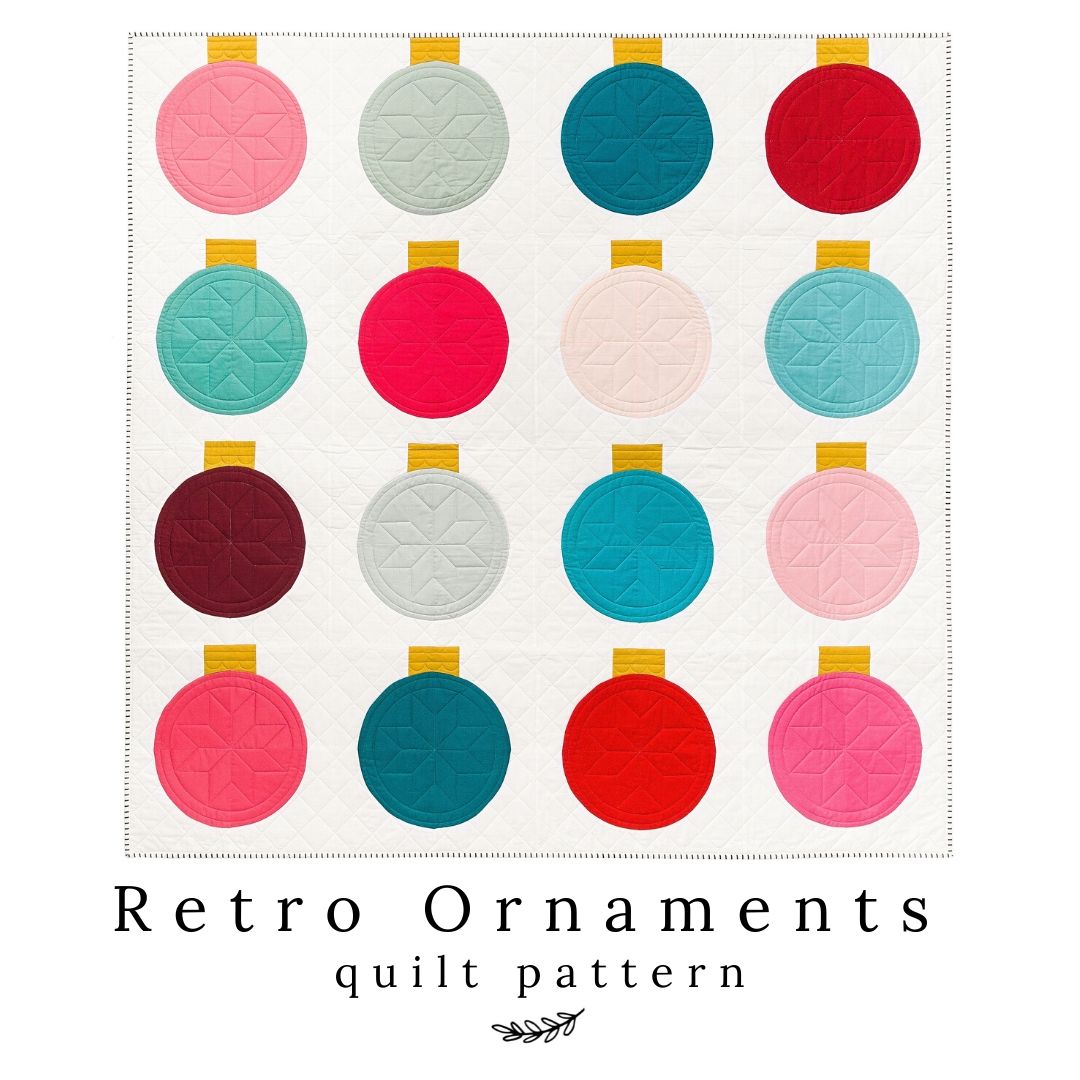 Retro Ornaments is now available!
Find the digital pattern here! I also have paper patterns available for preorder!
.
.
This pattern was inspired by the heirloom glass ornaments that my grandmother passed down to me. I wrote the pattern for a Wall Hanging (32" square), Throw (64" square) or Bed size (96" square). Each ornament uses large cuts, so it's great to feature your favorite Christmas prints! The pattern is fat quarter, 1/4 yard and 1/2 yard friendly. Can I get a WOOT WOOT?!
Ya'll know that I HAD to use solids for my cover quilt. I have a pretty long-standing obsession with solids. These are all Robert Kaufman Kona:
Crimson
Chinese Red
Lipstick
Watermelon
Punch
Camellia
Melon
Primrose
Shell
Desert Green
Seafoam
Aloe
Sage
Jade Green
Ultra Marine
Everglade
.
Since the inside section of the ornaments is so large, I really wanted the quilting to be bold. I sent my quilt to Walker Quilt Co. and she designed the PERFECT motif for this quilt. 
The crosshatch in the background is so so lovely. It draws the perfect amount of attention to the negative space without being over-bearing. 
We talked a LOT about whether or not we wanted the quilting in each ornament to be the same. Initially, I wanted them to all be slightly different...but since all of the colors are different, I figured that the quilting design would unite all of the ornaments and tie it all together. I really love the ornaments that have kind of a 3D element. You know... when the front/middle of the ornament is concave and the center is metallic with maybe a little bit of glitter? Andrea really brought this motif to life with this quilting. I am OBSESSED with how it all turned out! 
For the binding, I toyed around with several ideas. In ended up landing on this really fun stripe fabric from Moda. OH! It's so good! 
.
This quilt is my new favorite Christmas quilt!
.
/
.
.
Are you ready to make your own?
There three shops are have quilt kits for this pattern! 
Fabric Bubb has kits for my original cover quilt. I used sixteen 1/4 yard cuts. She also includes the white background, yellow caps....and even links to the striped binding! (I think the binding is sold out, but you can at least see who makes it!)
.
.
.
 .
I also had the pleasure of collaborating with Brooke from Lady Belle Fabrics. We created this Retro Ornaments quilt, featuring Art Gallery Fabrics, Pure Solids. Ohhhhh, I can't wait to get this bundle in the mail! 
.
.
For all of my Canadian friends, Nikki, from Stacked Fabric Company, also has kits for my cover quilt! 
.
.
Looking for color-way ideas? Here are a few!
.
.
.
.
 .
You might've already figured it out by now....but SURPRISE!! There are two bonus block variations in the pattern! You can add stripes or a center diamond to give your ornaments an extra flair. I love this wall hanging quilt that @stitchandsewstudio created, which features both of the bonus blocks! These colors are the perfect muted Christmas colors!
.
Speaking of pattern testers, lets take a look at what they all created!
Steph, of @beansyquilts got SO creative with her quilting, the border and those two little pops of red! I love how unique this is. Beautiful job!
.
Katie of @katesmakesandcreates showed off all of the fun variations that you can create with these blocks! I love it!
.
 Kara of @hollandandhomesteaddesign took advantage of the bonus blocks and added some pretty gold stripes into her quilt! This just looks so warm and cozy!
.
Emily of @em.quilts turned an ornament block into a pillow! Also, how about this quilting?! She did it all on her domestic machine.... bravo, Emily!
.
Cristi of @one_stitched_heart stitched up this wall hanging....it's so pretty and festive!
.
I had the pleasure of meeting Erin, of @sewsew89, in person this past fall, and she has just recently joined my pattern testing team! I just LOVE her Retro Ornaments quilt...beautiful work, Erin!
.
Last but not least, is Kristin of @watersidehearth! YA'LL! Look at this yummy golden background!! I also love her use of prints. It's GORGEOUS.
.
.
.
Well, that's all that I have for ya! Don't forget, Retro Ornaments is 20% off through this weekend so don't miss out!
Be sure to tag me on social media with your finished quilt tops/ quilts! I want to see what ya'll are making! Use the hashtags #retroornamentsquilt and #loandbeholdpatterns.
.
.
Alright, friends. Happy sewing!
Brittany