Celtic Crossing 2.0 Quilt Pattern - all the details!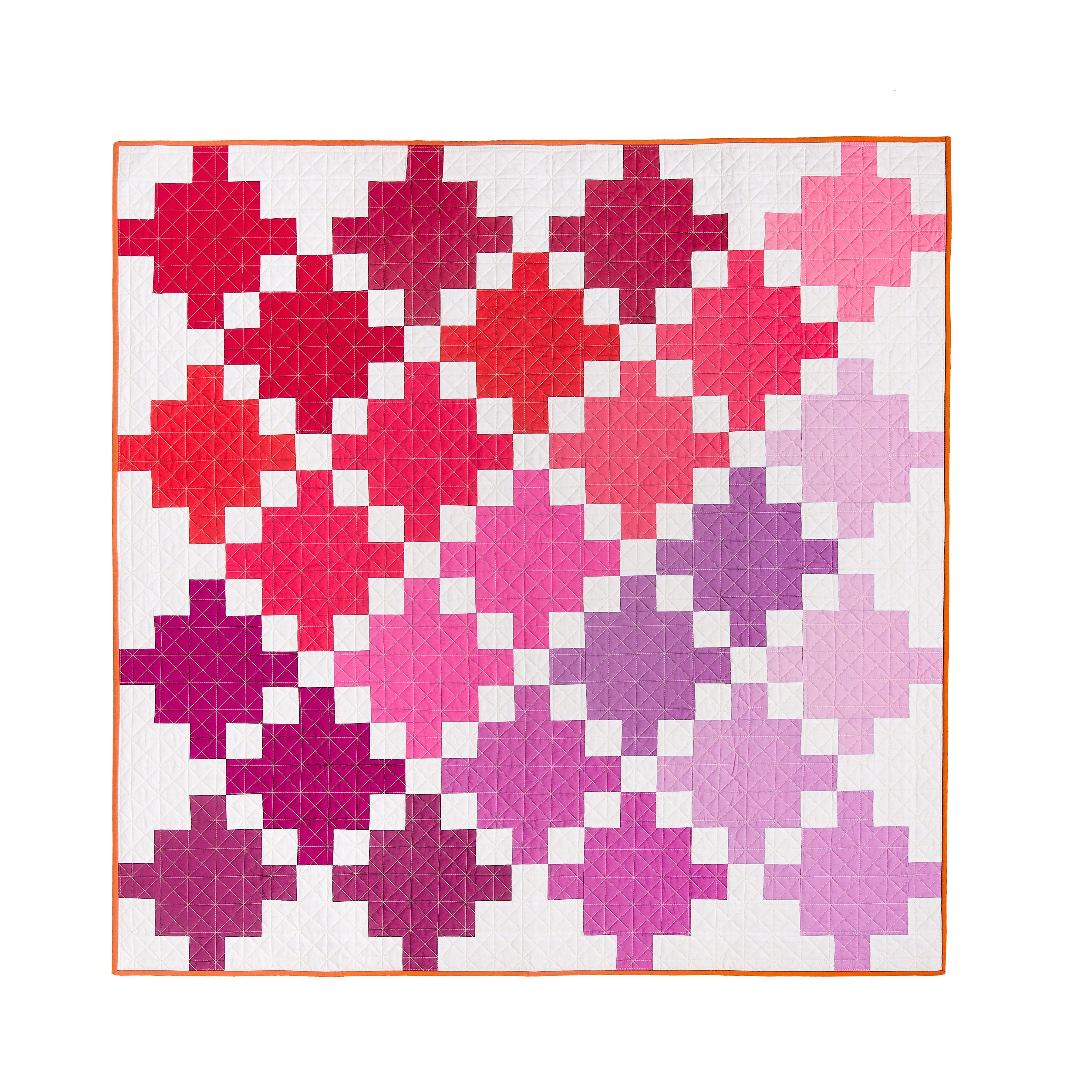 Celtic Crossing 2.0 is now available!
If you've been around for some time, you might recognize the name "Celtic Crossing." It was my third quilt pattern, back in 2018.... over 3 years ago! I can't even believe it's been that long! I really love modern mixed with traditional, and this quilt is the perfect marrying of both styles! The original pattern had two sizes, baby and throw, and 3 different color-ways. Here's a photo of the original color-way for nostalgia purposes. I was VERY into the grays back then!
Precut Friendly and All the Sizes!
Over the last several months, I decided that my original pattern needed a facelift! I've made this quilt several times in an ombre color palette, but it's not really explained in the pattern. I also wanted to add more sizes so that it could be wayyyy more versatile and have more than just the baby and throw option. The new version has Baby, Small Throw (square), Large Throw (rectangle) and Queen sizes. While I was at it, I figured, "why not go ahead and make it pre-cut friendly?". The original pattern could also use precuts, but Celtic Crossing 2.0 was made specifically for precuts! Not to mention, doesn't this quilt just look way more "me"??
Fabric Requirements
This design is a modern take on the negative space of the traditional Irish Chain quilt. Typically, the chain portion of the quilt is what's highlighted, but with this pattern, I love that you can achieve a big, bold punch of color by using the space in between the chain! Not only is this pattern perfect for color gradients and ombre/rainbow quilts, it's great for fabric collections! With it being precut friendly, you can use precut 10" squares (Layer Cakes), Fat Eighths, Fat Quarters, 1/4 yards, 1/2 yards and yardage. The background fabric can either use yardage or precut 2.5" strips (Jelly Rolls)! The instructions are specifically written to achieve this ombre look and there are multiple layout options with coloring pages to experiment with different ideas. Here are the fabric requirements for the ombre or "Modern" version: 
.
I also wanted to keep instructions for the Traditional version of this quilt! If you are looking for a quick finish, this option is perfect. Everything is strip pieced and super easy to follow! Not to mention, I just love the timeless, classic look of a two color quilt. Here are the fabric requirements for the "Traditional" version:
.
.
This quilt pattern is also SUPER DUPER beginner-friendly. In fact, this is the quilt pattern that I taught inside Beginner Quilting Academy (BQA). If you're new around here, BQA is my online beginner quilting course that I launched this past January! We had hundreds of students from all over the world making this design and learning how to quilt in the process! This week is actually the last Module of the course, so it's been really fun to see everyone's finished quilt! We will be launching BQA again in a few months, so be sure to get on the waitlist! You'll also get my free Ultimate Quilting Starter Guide automatically sent to you while you wait for doors to open. :)
Back to Celtic Crossing 2.0...... yes! It is very much beginner friendly. There are a lot of repetitive straight seams, which are great to practice and perfect your 1/4" seam allowance. The pattern includes helpful instructions and colorful diagrams. I really wanted to tailor this pattern to those of you who are just starting out on your quilt journey! That being said, even if you have several quilts under your belt, it's still a very fun....very rewarding pattern! I've loved revisiting it!
Let's take a look at the cover quilt, shall we?
.
.
Unlike the cover quilt on my first version of the pattern, I really wanted this quilt to pop! And nothing says "POP" to me like bright reds, pinks and purples!! My heart might explode!
.
.
I made a baby size quilt (46" square), using 13 fat eighths and they're all Robert Kaufman Kona Solids. From top to bottom, they are:
Pimento
Cardinal
Watermelon
Punch
Dragon Fruit
Bubble Gum
Petunia
Corsage
Violet
Gumdrop
Deep Rose
Plum
Cerise
Many of these colors were new to me, but gosh, I love each and every one! Especially Gumdrop....that might be one of my new favorites!
I didn't get a lot of progress photos for this quilt because I was actually using it to film videos for my students inside BQA!
.
.
.
.
For the quilting, I decided to do this double criss-cross design. I quilted a similar concept on my Kismet Nightingale quilt and I absolutely loved the texture! I'm so glad that I decided to do this motif again! Not to mention, this Janome M7 sewing machine is a dream boat!
.
.
First I quilted horizontal and vertical lines that were 1.5" apart. Then I quilted 45 degree lines diagonally, which go through the grid intersections of my previous lines. It looks more complex than it is. I highly suggest trying it!
.
.
.
.
.
.
For the binding, I wanted to do something a little off-the-wall to give the quilt some contrast. Normally, I'll go with a darker binding, or maybe even a stripe....but for these colors I was really excited to add in a cedar color (Kona Cedar to be exact!) .....and it did not disappoint! 
.
.
.
For the backing, I used Kona Peach, which was a little different than what we offered in this quilt kit, and that's simply because I cut my original backing incorrectly...so I had to use the next best thing, haha. 
Speaking of.....we have kits for this exact quilt!! (with a different backing, obviously). But yeah! Check them out in our shop!
.
.
What do ya think?? I'm really pleased with how this turned out. It feels very much "on brand" with my style of quilts. I hope that you love it too! Please tag me on social media @loandbeholdstitchery and use the hashtag #celticcrossingquilt so that I can see your beautiful creations!
Happy Quilting!
PS: I made several other Celtic Crossing 2.0 quilts that I'm super excited to share about! Look for new blog posts about those quilts in the next several days! 
.
.
LINKS:
.
.
.
.
.